Images in the galleries represent what I have created for custom orders and on spec.  Let these images inspire your imagination.  Items that are in my inventory and available for sale are indicated.  However, I would love to create or re-create anything you have in mind (in glass!).
News and Highlights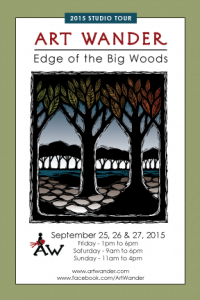 Thanks for coming!  We had a great weekend.  It was fun to share my art and process.  I hope you all enjoyed the rest of the Wander also.  I'll be busy buying glass in the next few weeks and getting to work on FALL!  Once I'm done with all those birch pieces, I'll be ready to tackle the ideas folks had for custom work.  It's going to be a fun winter.
Cost Estimates for Custom Orders
Custom pieces are more affordable than you may think, and glass is the most expensive part of the project.  I'm sure we can create the right piece at the right price for you.
I love what I do and want everyone who enjoys glass art to have access to it.  So don't be afraid to ask.